I prefer my Canon A35F over my Canonet 28 if I'm grabbing a quick camera for some shots.  They're both very good.  It's just that the Canon A35F is normally cheaper than the Canonet 28.
Have you read about the Canonet 28?  Have you ever seen the movie named Pecker about the rise and stumble (not quite a fall, a coming of age) of a teenage photographer?  The Canon A35F is the "son" of the Canonet 28, the camera used in Pecker.  (Visit the movie blog http://fritzflicks.com/ and ask Fritz to review Pecker.)
Can your $5 camera take a shot like this?  There's a special pleasure in getting a great little film camera that works for under ten dollars.
The Movie Pecker and the Son of Canonet
Is it just me or do we have special reasons why we acquire a certain film camera.
Have you ever heard of the campy movie from 1998 named Pecker?  This is what the New York Times said about that movie:
As the title character, allegedly nicknamed Pecker because he eats like a bird, Edward Furlong plays the happy, innocent shutterbug at the center of this giddy satire. Pecker takes pictures just because he loves to, and because, like Mr. Waters, he thinks art is anywhere and everywhere. The film watches what happens when Pecker's photographs of his inner-city Baltimore neighborhood somehow catch the fancy of Manhattan's art establishment…
So I watched the movie Pecker, and like a lot of people, guessed at what camera Pecker was using.  Was it the Canonet 28?
Naturally I purchased a Canonet 28 on Craiglist (east coast, summer of 2010) and have never used it.  Metering seems to work fine but the camera seals are crumbling badly within.  I've been too busy blogging to learn how to repair camera seals (yes, on my to do list).
Why do I call it Son of Canonet?  The Canon A35F was made just after the Canonet 28's.  Unlike the Canonet 28, the Canon A35F had a built in flash, and it seems to work fine.  I think Pecker would have loved it.
So that's why I named the Canon A35F the Son of Canonet, because really, it's father was the Canonet 28.
Canon A35F Review – Technical Details
So far, I'm not good enough technically to ramble on at great length about any camera.  And neither do I want to summarize/plagiarize other photographer blogs.  So…
Visit The Other Martin Taylor website for his write-up on the Canon A35F.
The best I can tell you is that this is a Canon rangefinder film camera that comes with its own built in flash.  Its father, the Canonet 28, had a hot shoe for a flash.  The Canon A35F is simpler from a flash perspective.
Keep a film cap on your lens.  Without a cap, the light meter runs constantly and will run down your battery.  As I recall, you do need a battery to shoot this little camera.  It has no manual settings.
Provenance or History
I purchased this for $ 5 at a garage sale on Chicago's great northwest side.  Wonderful little camera that feels right and shoots nicely, fine lens.  So no fancy provenance on this camera, just a short history.
During the summer and early fall I realized there were some nice garage sales on Chicago's northwest side running from Sunnyside and Central Avenue to about Canfield and the Kennedy.  On some Saturday mornings I would take a drive looking for cameras in these middle-class neighborhood.  Point and shoot cameras, but decent ones.
One Saturday I came across a garage sale and found a black Canon camera.  It look familiar but I couldn't quite place its lineage.  It's a rangefinder I think, what is it?  The shutter didn't work but the shutter did work when I popped in one of my spare batteries (you carry spare batteries going to garage sales, don't you?).
The lady wanted five dollars and I tried to bargain her down to $3.  Silly on my part.  She knew I wanted it but I had to try.  You win ma'am.  $5 and its sold.
My Repairs for the Canon A35F – None
No repairs needed.  It just plain worked.
This camera was early on in my collecting so I wasn't even wise enough to run an expired roll of film through it to test film advance.  I just cleaned the lens a bit and then shot a roll of ASA 200 color print film with it.
Two Test Rolls with the Canon A35F
I shot one roll with the Son of Canonet during the fall of 2010 and then one roll after a horrible snowfall on February 1, 2011.  My neighbors and I dug out our alley with snow shovels and snow blowers.  We knew we couldn't depend on the City of Chicago to do our alley with easily a foot or more of snow.
I include this photo not because its good or great, but because its decent.  Isn't that what we expect from our cameras (film or digital)?  We just want to take decent photos, hoping for the best.
Nice features of the Canon AF35F.
It does feel good.  Nice weight and heft.
Manual film advance, quiet.  When you take a photo, you have to wind it yourself.  Not a bad thing unless you're into sports photography.  This is a quiet little camera.
Portraits.  I have taken some portraits that have come out very nicely.
It's cheap.
The light meter runs constantly.  Your light meter battery will run down.  Put a cap on the lens (sometimes hard to find one) or place the camera in a dark place so it won't run down its battery metering light.
Will I use the Canon A35F, the son of Canonet, again?
You bet.  Here's a photo of soccer practice at North Park College in Chicago, IL during March 2011.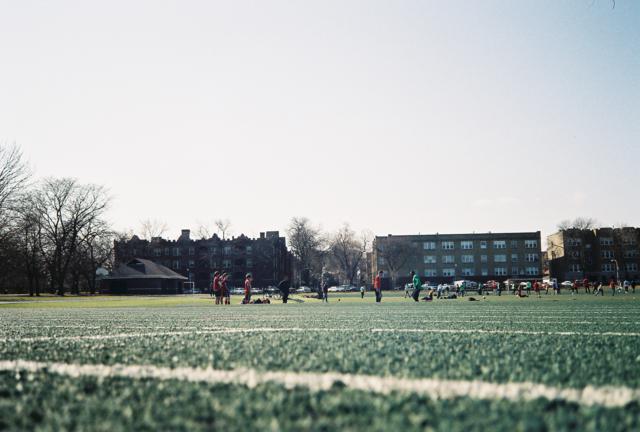 If you can find a Canon A35F at an affordable price, buy it.  Ten dollars at a garage sale would be a good price.  You'll be pleasantly surprised how well the Son of Canonet does with beautiful landscapes and portraits.
Thanks for reading my Canon A35F review today and visiting What is a Film Camera.  Really, if you can find a Canon A35F for $5 buy it, they're terrific.