This blog article could have had many titles.  But ultimately it's a blog article about how photography can enrich your life, and the lives of others.
I'd like to become a better photographer.  I don't obsess about it, but I do own about 10 photography books that I read again and again.  (I think it's time to take a photography class.)
I want to be good at photographing…
People.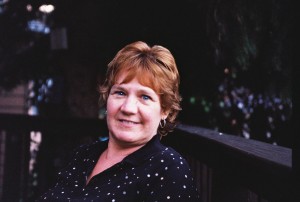 Photographing your wife on the back porch is easy.  My wife is getting used to it.
Perhaps you want to become better at landscapes, or sports photography, or bird photography (like my friend Kim).  Or, do you prefer commercial, aviation, or portrait photography.  I'm self taught so I can't describe all the different types of photography.
I want to photograph people that I meet on the street.  I just realized why.  I never knew why before.  It's a connection to my Dad who died 40 years ago.  My father could walk up to anybody, anywhere, anytime and strike up a conversation.  On Sundays during the late 1950's when he didn't work, my Dad would take me to soccer games in Chicago at Winnemac Park.  I never understood soccer but I learned how to establish a rapport with complete strangers, watching my Dad.
I want to walk up to total strangers, strike up a conversation, and take their photo if they'll let me.  I'm not looking to take a secret photo of someone without their permission.  The skill is in making contact, establishing a rapport, and commemorating the moment with a photo.  One friend said one of my hidden skills is walking up to strangers and chatting with them amiably for 5-10 minutes.  (A priceless talent I learned from my Dad.)
July 24, 2011 – Yashica 1000 Test Roll
I purchased a pedometer and now take walks as much as I can (becoming healthier).  Today was a Sunday so I started my walk at about 7:15 AM.  I normally walk about 1.5 to 2 miles in the morning around Kilbourn Park on Chicago's northwest side.  This Sunday, storm clouds are building in the west.  (An hour later a new rainfall record would be set at O'Hare airport in Chicago.)
I took my refurbished Yashica 1000 with me for its first roll of film (ASA 200, generic film).
I'll write about the Yashica Lynx 1000 on another day.  Let's just say that it's as beautiful now as it was when it was made 51 years ago in 1960.  The question remains:  Is the camera usable, is the photographer good?
Look behind you, you're missing good shots
As I crossed under a train viaduct approaching Kilbourn Park, I learned something for becoming a better photographer:  look behind you for good shots.
So many times we look forward as we walk hoping for a good photograph.  We see only 180 degrees forward.  Did it ever occur to you that there's a great photo or perspective if you just look behind you?  More importantly, pause for a moment and do a complete circle.  You may find a very good photo behind you, waiting for a good photographer.
Street Photographer Basics
As I wrote before, I want to become good at photographing people, especially strangers.
As I entered the park I met a woman who was finishing her morning walk/run.  I said hello, she said hello, and I asked her if I could take her photo.  She said no.  I gladly accepted her wishes.  People have the right to decline having their photo taken.  She and I parted on good terms.
The Park this Morning
It's a Sunday and there are more walkers than normal taking laptops around the running track.
One person walks ahead of me as the train roars past on its way to downtown Chicago.  To the left you can barely see one hoop of the basketball court.  It's empty today.
Meeting Oly, a Homeless Man
I walked through the park and as I neared Addison street I saw a man at a picnic table reading some plastic covered pages in a 3 ring notebook thick with documents.  His tobacco pipe was near his hand.  Next to him by the picnic table is a large box, perhaps 3 feet X 3 feet X 4 feet.
I had seen this man before in the near distance on another day, and had walked on by.
RK – Good morning.  How're you doing today?
Stranger – Fine.  How are you doing?
RK – Great.  I'm taking my morning walk taking photos.  Mind if I take your photo?
Stranger – Sure, go right ahead.
I didn't take his photograph right away.  I sat down on the other side of the picnic table and began chatting with the stranger, we introduced ourselves.  His name is Oly.
Oly was reading a binder on theories of religion, on a picnic table, on a Sunday morning at 7:15 AM, in Chicago, IL, as storm clouds grew in the west and thunder rumbled in the very far distance.
Oly discussed his unifying theories on religion and I listened politely.  It was a little too complex for me this early in the AM.
Oly revealed after a few minutes that he was homeless.  He didn't complain about it.  It was just a fact.  His landlord evicted him for $4400 in unpaid rent.  Oly looked older than me (I'm a young 60, so they tell me.)
RK – May I ask what you did for a living?
Oly – I worked in a photo development lab.  They don't need that kind of thing anymore.  The big stores do it for you.  I was also a taxi driver.
RK – What do you do when it rains?
Oly – I pull this large sheet over me and my box.
RK – What's in the box?
Oly – My favorite books.  I couldn't leave them behind when I was evicted.
RK – May I ask, how old are you Oly?
Oly – I'm 65.
Oly chatted on and mentioned a teacher named Mrs. Smith that hooked him on reading when he was in grade school.  She introduced him to Edgar Allen Poe's poem, "The Raven".  Oly recited the Raven for a minute or so.
What Oly taught me about Street Photography
As I said at the start, this blog could have had many titles.  But let's get back to street photography.
I had established rapport with Oly and he had established a rapport with me.  A very nice guy suffering a period of homelessness.  What of all your possessions would you store in a box if you were homeless?  Oly chose some clothing and his important books.
After a few minutes of chatting with OlyI showed him my Yashica 1000.  I took a closeup of Oly at the picnic table.  I took another closeup with Oly in the foreground and the hot dog stand in the background.  Another shot with Oly in the foreground and the park in the background.
After a while I offered that Oly could take a photo of me.  He declined.  He didn't want to accidentally break my Yashica Lynx 1000.
What did Oly help me learn about street photography?
Say hello first.  Ask a question like, "How's your day?".
If the person answers you, keep going.
Chat a few seconds if you can, then ask:  "May I take your photo?"
If the person says yes, chat a moment or two if you can.  Engage them.  Don't pretend to be their friend.  But honestly carry on a conversation, even if brief.
Take the photo.
Thanks them for the photo, the conversation, and leave.
I'm sure I haven't discovered some secret method for street photography.  But I learned from experience and tha's precious.  Each time I ask someone to take their photograph I get a little better at the process.
Thanks Oly, Bye
Towards the end of our conversation, Oly asked me what I wanted to be doing career wise.  He wanted to help me if he could (imagine that).  Yes, I gave him my cell phone.
As I stood up to leave I asked Oly if there was anything he needed that day.  (I never once offered Ollie money, that didn't seem right.  I'm not offering money for photographs.)
Oly said he was fine.  I told him to call me if he needed something.  I didn't promise any magical favor.  I did promise to help if I could.
Am I a Good Photographer?
Maybe.
I took a dozen photos yesterday on my walk and in meeting Oly on July 24, 2011.  Then I got home and realized I had not set the ASA speed for my camera to 200.  The speed was on 100.  Will the photos come out?
Yes, the photos came out fine.  Remarkably, the Yashica Lynx 1000 took well exposed photos at ASA 100 even though the film was ASA 200.  On another visit, here's Oly.  You can see his worldly possessions box next to the bus shelter.  The bus shelter protects Oly from bad weather, unless the weather comes from the north.
But I did get better at street photography as a photographer?  I think so.  Every day a little better.  Thanks Oly.