What's Your Best Camera Deal Ever?
Last Saturday at a Chicago neighborhood garage sale, I experienced my best camera deal ever.  It's not about cheating people out of money and tricking them to sell their old film cameras.  It's about meeting people, making an honest offer (they can say yes or no), and sometimes making a new "home" for old cameras.
I'm hoping this blog post will inspire people to leave a comment on their best camera deals (garage sales, eBay, Craigslist, anywhere).
Forest Glen Garage Sale in Chicago, IL
Forest Glen is a very nice neighborhood on Chicago's northwest side.  Just go to Cicero Avenue and Foster.  Anything north and to the west is Forest Glen.  They have their garage sale in very early June of each year.  June 2013 they had 80 homes registered for garage sales.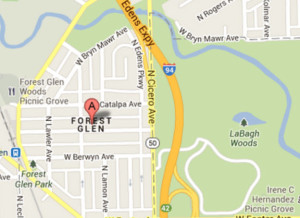 Last year I found a beautiful shelving unit that had 36 storage slots for 36 of my cameras.  It had been used in a Kindergarten class and had been discarded.  It was a wonderful bargain at $15.  But that was last year.
How to Buy Cameras at Garage Sales
This isn't rocket science.  You find a neighborhood with garage sales so you can efficiently walk the alleys asking people about film cameras.
Do you have any film cameras?  Do you have any cameras inside the house?  One person had a Nikon inside, another lady had bunches of cameras 80 miles away, another lady said she had a Nikon but didn't want to sell.  Thanks them and move on quickly.  More garages to look at for bargains.
At about the 10th garage sale of 80 sales an older man (just a bit older than me) said, "I know someone who has a bunch of cameras in her basement.  She doesn't want to throw them away.  Do you want to see them?"
Yes.  Thirty minutes later I met the man on the front porch of a bungalow in Forest Glen and met the owner of the cameras:  Barb.
46 Pounds of Film Cameras
The owner had placed all of her film cameras in a sturdy box.  It was waiting for me on the cement front porch under a bright summer sun.
Sifting Through Film Cameras
I picked up each camera, lens, or device (there was one binocular), looked at it briefly and asked myself one question:  Do I want this camera?
Good camera.  I put them to one side to inspect later more carefully.

Average camera.  I put them in another pile.  What's an average camera?  Perhaps an Argus 35mm or a plastic 35mm camera worth little (no Yashica T4s or Olympus XAs today).
I found 5 cameras I wanted to own and 16 other cameras or lenses that I didn't need.  Sure, I'd take all of them, but I knew I wanted 5 cameras.
Make an Offer, Sometimes People Say "Yes"
I began the negotiation by saying that all the cameras were worth more than I could pay.  It seemed like the most honest way to start.
I had $30 in change in my camera bag (my piggy bank) and $45 in bills in my wallet.
The Craigslist "Convenience" Offer
We talked a little about some of the "5" special cameras and I suggested my first offer:  I'll help you sell all this equipment on Craigslist and I'll take a 50% commission.  I hoped they would say yes and perhaps bargain down my commission.
But Barb said no.  She wanted to sell everything.
All Cash Offer
Sometimes people just want to sell their cameras.
Finding a New Home for Cameras
Barb told the story of her cameras, they belonged to her father.  Let's just say he had a very interesting career that ended as a commercial photographer for a large manufacturing company.  Barb didn't want to give the cameras away to someone who wouldn't appreciate her cameras.  I assured Barb I would make a home for her five special cameras and not sell them.
One of the cameras was a Nikon F.  The first SLR camera ever made.  I missed a Nikon F last year when it came up for sale on Craigslist and was sold in hours for $100, 70 miles from downtown Chicago, a long drive.  Photo below courtesy of Wikipedia.
$50 for 5 Wonderful Cameras?
Len, a Vietnam Veteran (thanks for your service Len), also had a Nikon F at his home.  He asked how much it was worth?  I believe I said it would sell easily for over $100.  I haven't checked prices on eBay lately but I bet it sells for $100 to $200.
Len asked how much I would pay for the Nikon F.  I countered, I'll pay $50 for the "5" cameras, that was every dollar I had on me.  It was an outrageous offer.  But Len and Barb knew that at least one of the cameras was worth over $100, just by itself.
$75 for 5 Wonderful Cameras?
Barb seemed interested but she didn't say "yes" or "no".
I countered:  "Barb, I'll pay you $75 for these five cameras."  This is a list of my five favorite cameras.
Nikon F, Nikkor 50 mm lens, 1.4 aperture.

Konica Autoreflex T, 52 mm lens, 1.8 aperture.
Konica Autoreflex T3, 50 mm, 1.4 aperture (bent rim),
Honeywell Spotmatic, 50mm 1.4 aperture.
Konica C35, EF rangefinder.
Barb hesitated and said:  "What will you offer for everything?"
$100 for 46 Pounds of Cameras and Lenses?
I offered Barb $100 for all of her cameras and lenses.  $30 in change, $45 in paper bills, and the promise to pay $25 in the next two weeks.
Barb said, "Yes."
Three Camera Surprises
Three wonderful things.
First, my amazing wife didn't complain about me purchasing more cameras.  She had every right to do so.  But she knew I hadn't purchased any cameras in perhaps a year.  God love her, what a gal.
Second, I discovered I had purchased a Nikon FE camera with a 1.4 Nikkor lens as part of the camera lot.  Yes, I missed it.  The Nikon FE doesn't have FE plastered on the front of the camera, it's discretely placed on the back of the camera.
Third
, at Barb's I thought a heavy object was a movie camera.  It turned out to be a Speed Graphic 2 1/4 x 3 1/4 camera.  Press photographers used this for decades before yielding to 35mm cameras.  The famous Iwo Jima photo  of 1945 was taken by a photographer
Joe Rosenthal
using a Speed Graphic camera.  Photo courtesy of
Wikipedia
.
Barb's Cameras and Lenses, an Inventory
One hour later I was the proud owner of 46 pounds of cameras and lenses for $75 and the promise to pay another $25 (I was short on cash).  Here's the inventory from best to OK lenses and cameras.
Nikon F with Nikkor 50mm, 1.4 lens, original brown case, beautiful
Konica Autoreflex T3 with 50mm 1.4 lens
Konica Autoreflex T with 52mm 1.4 lens
Honeywell Spotmatic with 50mm 1.4 lens
Konica C35F, EF (I always wanted this plastic camera that revolunized photography years ago)
Nikon FE with 1.4 Nikkor lens
Three Argus 35 mm cameras
Speed Graphic 2 1/4 x 3 1/4 (wow, I thought it was a movie camera at first)
Yashica YF (Nicca) – Broken shutter
2 plastic 35 mm cameras
Stereo Realist, Original Condition in Box
Argus Argoflex 75, very good condition
4 more lenses (Old Nikon, 2 Vivitars, and one Pentax)
Thanks Barb (and Len)
This was an incredible camera deal.  I believe I was honest when I told Barb and Len how much the Nikon F was worth.
I began the negotiation telling them the cameras were worth a few hundred dollars but I don't pay full price for cameras.
But I believe Barb wanted a home for the best of her father's cameras.  And I promised I would never sell her father's Nikon F, two Konicas, Spotmatic, and Konica C35 EF.
Soon Barb will have the $25 I owe her along with my renewed pledge not to sell her father's very special cameras.  Many times, collecting cameras isn't about making a profit.  It's about keeping film alive and making friendships.
Thanks again Barb.  And thanks everyone for reading about my Best Camera Deal Ever today on What is a Film Camera.  I hope my readers will leave comments about their "best camera deal ever".