When my Canon Powershot A570 IS drowned in the bottom of a Florida canoe in 1/3 inch of water (even in its case) it pushed me forward on a journey of camera collecting.  You can see the damaged Canon A570 below with corrosion in brown towards bottom right of the black display.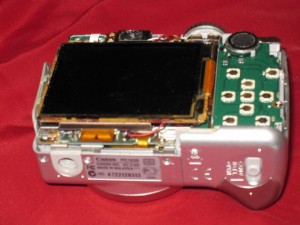 Canon Powershot A570 IS – Repair of Display
In brief, here are the instructions.
Visit YouTube and study Canon A570 display screen repairs .  Amazing, this German guy never even speaks and it makes perfect sense.  Remove the battery first, unscrew bottom, left side, and right side screws (a total of 6 in video).
Purchase tiny, magnetic screwdrivers such as the WIHA screwdrivers at Micro-Tools.

Why purchase them after viewing the YouTube video?  The video will convince you that the repair is reasonable and doable.
Begin the repair during the daytime when you're not tired and you can focus.  It's tempting to do a repair late at night when its quiet but you're tired.  It's a bad idea.  You can't make good repairs when you're tired at the end of a long day.
Find a bright well lit work area where you can sit with good posture and begin your repair.  I placed a clean dish towel on my kitchen counter to begin the work and "catch" the screws without falling to the floor.  Most likely they won't, the Canon Powershot A570 used magnetic screws and the WIHA screwdrivers are magnetic.
If you're cannibalizing one camera to fix another camera, work on the donor camera first.  Unscrew the donor camera and take the display screen that you want.
Now that you have confidence in taking the donor part, unscrew the recipient camera and swap out the bad display for the good display.
Test the camera and you're done.
#5 – Working on the Donor Camera
In the photo below you can see that I unscrewed the donor camera.  You can see the display screen I want to use.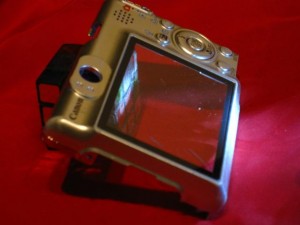 #7 – Test the Camera
I tested my improved Canon Powershot A570 IS and it worked perfectly fine.  It now had the unscratched display screen from my donor camera, an improvement.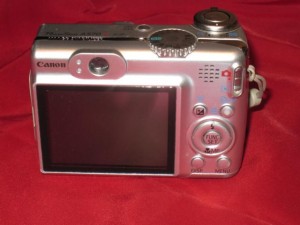 Why did I repair a Canon Powershot A570?
I just wanted to replace my Canon Powershot A570 IS.  Just nostalgic on my part. Before drowning in the bottom of a canoe in Florida, my Canon A570 had photographed my daughter's college graduation, a great trip to Hawaii, a scenic trip to Michigan's Upper Peninsula, and parts of Florida.  My Canon Powershot A570 was my re-introduction to photography.
Even though I love old film cameras I always have my Canon SD880 with me as backup (just plain common sense).  It was always on my to do list to purchase another Canon Powershot A570.
On Craigslist I found a Canon A570 for $20 in Syracuse, New York.  After a few emails Sue agreed to a price and to ship the camera to Chicago, IL.  I had to smile when I read one of her emails:
And I'm sorry to say, my camera has no good stories.  It was a good camera and we had it for quite awhile, but nothing eventful happens to our cameras!  (just us. haha)
The Canon A570 arrived (thanks Sue) and it worked just fine.  Its display screen was scratched more than my old Canon A570 so that's why I did the minor display repair.
Pick a Junky Film Camera and Repair It
So why not try to repair an old camera before selling it on Craigslist or eBay?  As I said, you will need a few good tools, a bright work table, and the belief that you can make the repair.  There's a pleasure in repairing an old Canon Powershot A570 IS so it still works.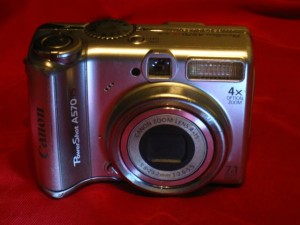 Honestly, if I can make a few small repairs (Yashica Lynx 14, Super Ricohflex, Canon A570) then anyone has a chance to successfully repair a camera.  Keep it simple and believe in yourself.
Please leave a comment describing your success or failure with any camera repair you have done.  And thanks for visiting What is a Film Camera today.