Mt. Pulaski – Canon QL 17 Review
This Mt. Pulaski Canon QL 17 GIII has had its own journey.  I believe it was purchased in the Orient by a U.S. serviceman during the Viet Nam War in the early 1970's and it returned to its owner's home in Mt. Pulaski, IL.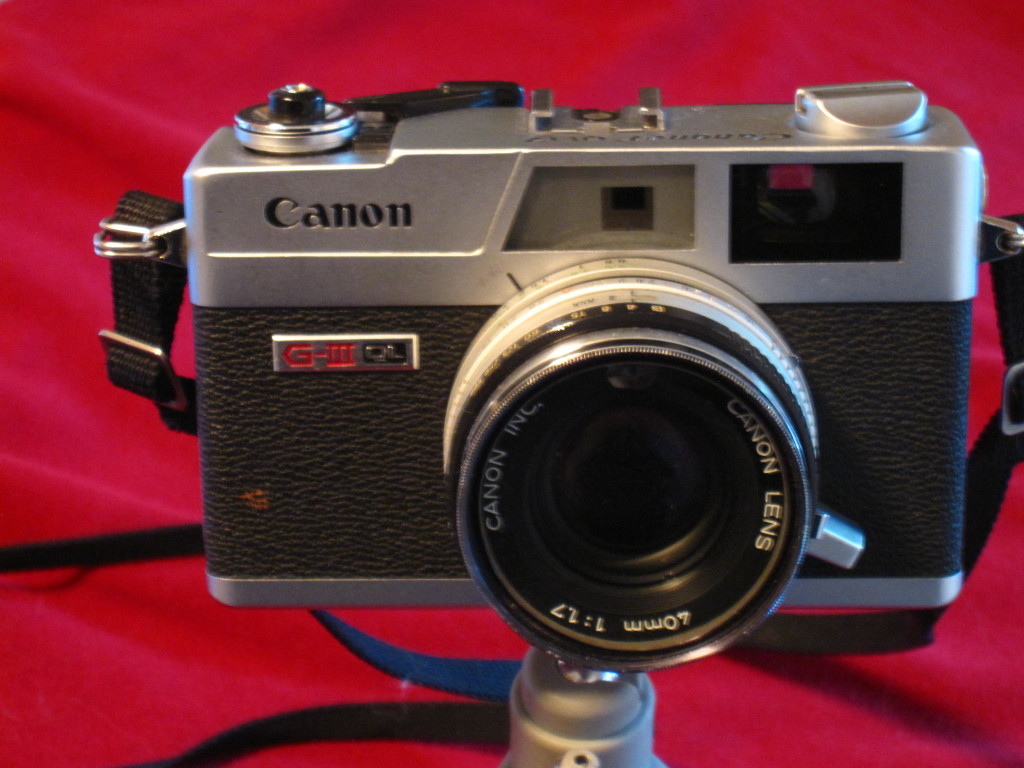 I know for sure that I purchased it on a hot summer's day at a garage sale in Mt. Pulaski, IL, in the summer of 2011.  Coming back from the gas station my wife said "turn here" to find some nice brick homes with a few garage sales.
There were no cameras in the garage but I asked, "Do you have any cameras in the house?".
Minutes later the elderly woman (just 20 years older than me) handed me a black camera case that was almost steaming from the heat in their attic.
I told the nice lady what her camera was worth fixed up on the Internet.  The shutter was frozen with oil, the seals were gummy, and I didn't know if it would work with a battery.  I told her what it would cost to clean up her camera and I made an offer.  She said "yes".
CLA'd by Lee's Cameras in Des Plaines, IL
As usual, nice work by Mr. Lee of Lee's Cameras in Des Plaines, IL.  They know me by now and keep asking where I'm getting all these cameras.
Mr. Lee gave it a CLA (clean, lubricate, and adjustments), new seals, and a new battery.  With a new battery, the light meter works perfectly and the battery check light works also.
I am grateful to have Mr. Lee as my camera repairman.  If you visit, tell him Richard said hello.
My Test Roll – Fuji Print ASA 200 Film
I was very pleased with my Canon QL17 GIII photos taken in Chicago, IL and Ann Arbor, MI.  Here are the photos from this re-conditioned, tested camera.
German Day Parade, September 2013 – Chicago, IL
Everyone loves a parade.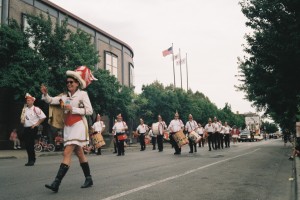 Everyone loves to drink beer at the beer tent.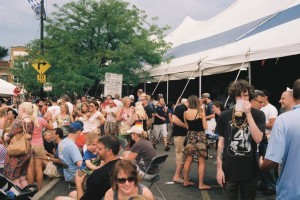 Ann Arbor, Michigan
We went to Ann Arbor for a wedding.  It's a beautiful town.
Here's some street performers on a summer Saturday.  I really took the photo because I wanted the homeless fellows on the bench in the background.  As I become a better photographer, I'll have the courage to ask for their photo.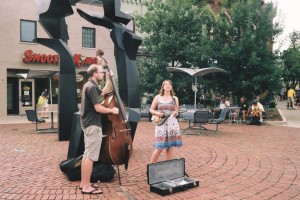 An Artistic Favorite – Flowers Seen through a Loading Dock
I was at a garden store that sold shovels, fountains, sacks of grass seed, that kind of thing.  I noticed their loading entrance opened up into an alley with beautiful flowers on the wall.  I thought that was artistics (I'm not very artistic).  I love the way you see the Exit sign on the left side of the photo in the dark.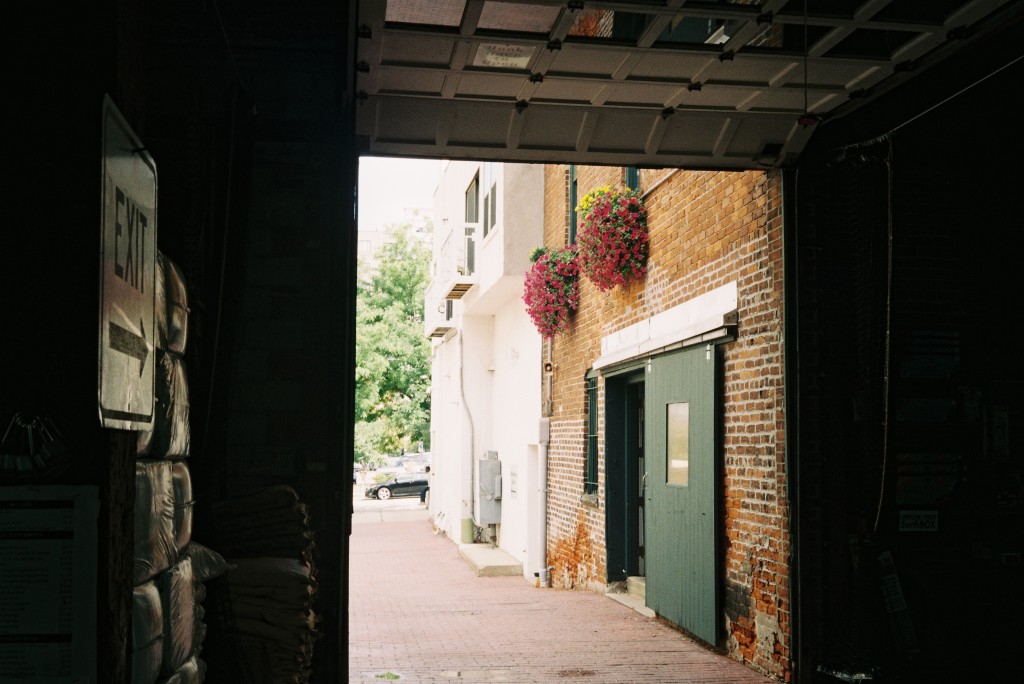 I asked a manager in the store if I could take the photo, he said "yes".  Always ask when taking photos on someone's private property.
Lunch at Fleetwood Diner, Ann Arbor, Michigan
Fleetwood Diner was great.  It reminded me so much of the quirkier places I visited when I was single.  I ordered the Hippie Hash with a side of eggs.  Delightful.
And here's my favorite photo of all, my wife at Fleetwood Diner.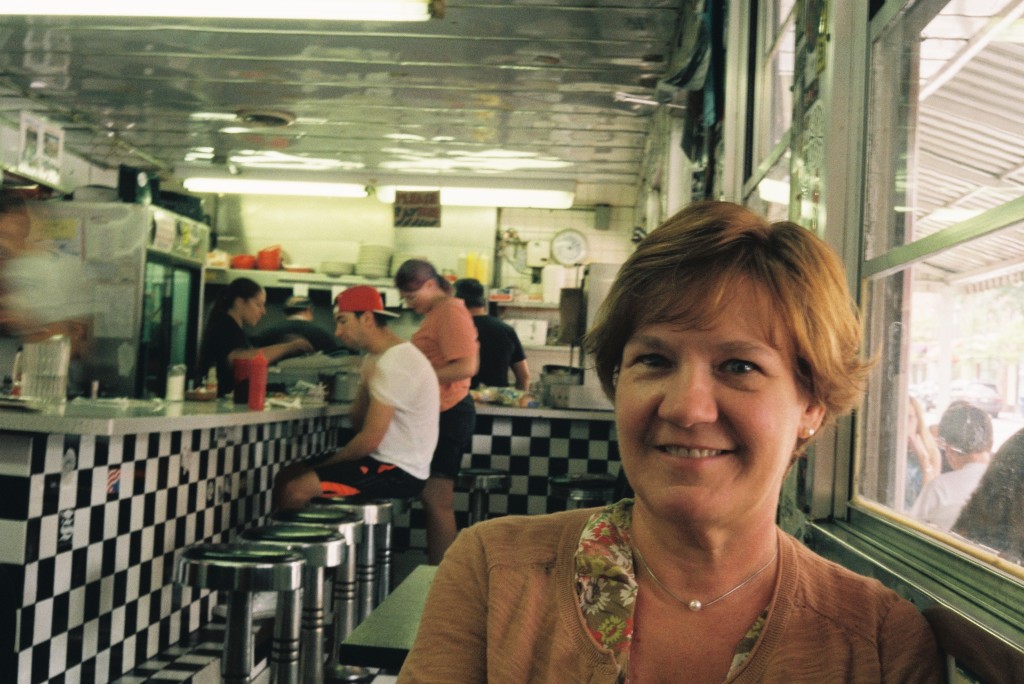 Canon QL17 GIII – The Mt. Pulaski Rangefinder
It's a wonderful rehabbed rangefinder looking for a new home.  I've tested it and now I'm selling the Mt. Pulaski Canon on Craigslist.  Thanks for reading my Canon QL17 GIII review on What is a Film Camera today.