I own three Canon Sure Shot Classic 120 cameras, and I still don't know if I'm going to sell any of them on eBay or keep them.  You should think twice about buying one.
My Canon Sure Shot Classic 120 was produced about 1999.  Apparently, a lot can happen in 12 years to break these cameras.  Only one of my 3 Canon Sure Shot Classic 120 cameras works, I had to cannibalize 3 cameras to get one camera functional.
Here's one of my best photos in 2 rolls of film with ASA 200 speed film for this camera.  A very nice shot that people have liked on my Flickr account.
Canon Sure Shot Classic – Technical Details
I don't mind if you read Matt Denton's description of this camera at Matt's website.  After all, his wonderful website description convinced me to find a "classic" of my own.
My summary.
Zoom lens.  38mm to 120mm.  If this was my only camera that would be a nice zoom range from 38mm for landscapes to 120mm for portraits.
Shutter speed.  4 seconds to 1/770 of a second.  After reading this I would imagine the Classic 120 has some low light capability.  Time to get out the tripod and take photos at night.
7 shooting modes:  auto, spot, action, night-scene, closeup, portrait and personal.  I think I'll set the personal to a no flash, timed exposure setting for my night photography.
Sadly, the personal setting doesn't allow me to set a time exposure.  Every time I take a photo at night, I'll need to set the time delay on the camera.  There's a little "door" on the back of the camera.  Swing it open to see controls for date settings, timed exposures, and also different flash settings.  Don't forget to learn the little door.
Provenance or History
No fancy provenance on this camera, just a short history.
One camera from Craigslist on the east coast.
Two cameras from local Village Discount resale shops or a GoodWill store.
Unless you purchase cameras at garage sales, most of your cameras will have no provenance or history.
I recently purchased a camera that was used by an amateur photographer to photograph Muhammad Ali (you of course know this legendary boxer) at a civil rights rally in Kansas City during the 1970's.  That's provenance to me.
But these Canon Sure Shot Classics have no history.  Perhaps that's why I'm not quite attached to them.
My Repairs for the Canon Sure Shot Classic 120
Well, I didn't repair any of them.  But I sure wasted enough time testing them to see if they worked.
My first roll went just fine.  Then I acquired two more "classics" and my testing problems doubled or tripled..
My point and shoot camera tests are simple enough.  Insert some expired film, insert a fresh battery, take some photos.  Then hope the camera rewinds when the last exposure has been taken.  Sadly, these Canon Classics had trouble with their testing.
Auto rewind.  One or two cameras would awaken with a fresh battery but wouldn't rewind when the last exposure was taken or photographed.  No automatic rewind.  That's a problem.
Horrible battery covers.  One camera came without a battery cover.  I actually think that's the camera that works once I replaced its battery cover.  Even if you have the battery cover they're very difficult to "screw" back into place.  Do not use a coin, you'll ruin the slot.  Hopefully the camera strap came with a plastic tool attached that's used like a thick slotted screwdriver.  Worst battery covers ever.
How does the Canon Sure Shot Classic 120 feel?
I take photographs on morning strolls in my Chicago neighborhood.  You might want to read my article, am I a good photographer where I write in great detail about a stroll with my Yashica Lynx 1000.
Nice features of the Canon Classic 120.
Feels good.  It's made of aluminum that feels solid and is yet "cool to the touch".  Kind of neat.
Viewfinder diopter.  Fancy phrase, hard to explain.  Auto focus point and shoot cameras focus themselves.  But the photographer may not be seeing things clearly in the viewfinder.  If you wear glasses you can relate to this problem.  The Canon Classic has a viewfinder diopter than you bring into focus using a dial around the viewfinder.  It helps you see what you're photographing.  That's a good thing.
Very good lens.  This is subjective.  But to me, the photos are nicely done.  The photos seem very accurate to me.  That's my polite way of saying a camera produces very nice photos that don't quite have a warmth to them.  But the lens is good.
Problems?  Yes.
Flash problem.  When you power up the camera, the flash protrudes from one side of the camera.  If you're not careful, this odd flash location might surprise you and you could drop the camera.
Noisy.  Matt Denton noted on his website , the camera does make a bit of noise when you take a photograph.  It could easily startle children if you're a parent photographer.
Shutter button.  I find that as I shoot my second roll of film, I need to depress the shutter button a little harder than I think should be necessary.  This throws off your photographic timing.
Batteries are costly.  Well, they didn't break the bank.  But when you're testing a $10 camera, you don't want to purchase $10 of batteries (or more).
The Canon Classic 120 does have about half a dozen settings.  Settings like automatic, macro, sports, and a few others.
But it does have a personal setting where you can set the camera to remember a favorite technique.  For me, that means I'm going to set it to no flash, timer photos so I can use it for night photography.  I haven't tried that yet but I'm doing so tonite.
Sample Photos with the Canon Sure Shot Classic 120
I'm not a great photographer, just slightly above average I would say.  So even though my photos aren't necessarily great, I show them anyway on this blog.
This is a photo of a young corn cob taken on a central Illinois farm in 2010.  It was taken during daylight hours and yet the flash kicked on when the photo was taken.  In retrospect, I could have photographed this differently.  But most people just leave the Canon Sure Shot Classic 120 on the "auto" switch and take shots.
This photo of balloons at the Lincoln, IL Balloon Festival in 2010 came out nicely.  Nothing great, just your basic home photography.  30 cars, vans, and trucks lined along a country road, waiting for balloons to pass overhead at a balloon festival.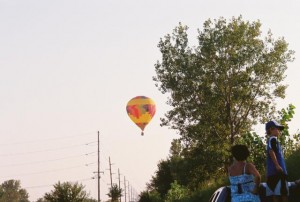 My Second Roll of Film
I tried to take some representative shots with the Classic 120.  Most of it was unimpressive.
My best photo came early in the morning before 6 AM at Kilbourn Park in Chicago.  One time the grounds crew pulled up in a truck 25 yards away to find out what I was doing.  Obviously, they didn't care about some older guy taking photos with a tripod.
This shot came out well taken about 5:30 AM in Kilbourn Park, Chicago, IL.  I'm showing it full size because it was the best of the 2nd roll.
Perhaps this next early AM photo is noteworthy.  Using a tripod, I turned off the flash and the shutter on delay.  In the middle of the photo you'll see white layered on green layered on a bit of orange.  It was a CTA bus driving left to right.  I was wondering if the bus would be captured in my photo.  Remember, this photo was in the very early AM.
Canon Sure Shot Classic 120 Review
After shooting this 2nd roll of film, I'll probably not shoot with the Canon Classic 120 again.  I have this lingering worry that my remaining Sure Shot 120 camera will fail me when I need it (2 others have already failed me).
I push my cameras a bit for an amateur.  For example, I knew the Canon Sure Shot Classic 120 had 4 second shutter speed at the low end.  Naturally, I pushed it to try some low light photography.  You've seen the results in the previous photos.
If all I photographed were outdoor photos that weren't totally sunny, the Classic 120 would be fine.  But after shooting two rolls of film with it, in my mind, I can't tell you one thing it does incredibly well.  And whenever I shoot with this camera, I have a lingering fear that nothing will come out terribly well.
If I need a point and shoot camera I think I have more faith in a few other cameras.  Given a choice, I think I'll take the Canon Sure Shot 120's little brother along, the Canon Sure Shot 130u.
Thanks for reading my Canon Sure Shot Classic 120 review and visiting What is a Film Camera today.