Yes, I own the Century Book by Phaidon.
My Century book by Phaidon was Free
At the end of a long day at the Andersonville Garage Sale in Chicago, IL, my friend Tom and I came up to a card table.  It had the Century book on it along with a few other trinkets.  A sign said:
Everything on this table (except the table) is free.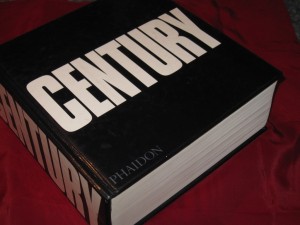 My friend Tom touched the book and I grabbed it and said, "Tom, it's mine."  Nothing like being aggressive I guess.
Tom didn't mind, the depressing Century book has become a joke between my friend Tom and myself.  It's just so depressing.
Century Book Review – Mood Swings Guaranteed
If you're having a good day I suggest you not read or study the Century Book.  It will depress you.
Do I really need over a thousand pages of depressing photographs from the last century.  Didn't anything good happen in the last century worth photographing?
Neither will you find many photographs by famous photographers.  There are good technical photographs in the book.  But good luck trying to find photographs from the masters of photography in the last century.
I just wish there were more photographs like the Jesse Owens' photo on the left shown below where he's conferring with a German competitor at the 1936 Olympics.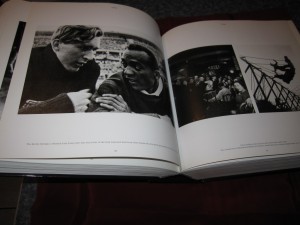 Leave your comment regarding the Century book by Phaidon
Did you read the book from cover to cover?  I did.  Please enter a comment for me.
I own The Photo Book by Phaidon and it's terrific.  Every photographer should buy a used copy of The Photo Book.  But leave the Century book by Phaidon at the used book store.  It's too heavy to carry around anyway.
Thanks for reading my Phaidon Century Book review today and visiting What is a Film Camera.