I own a bunch of film cameras purchased for ten dollars or less.  Some that I have tested with film, some that remain untested.
Some people boast on their photography websites about their best camera purchases or "steals".  The cameras listed below aren't steals.  I think you can find these cameras for under ten bucks.  I did.
One day I'll have large write-ups and photos on these cameras.  For today, just write-ups.
Nikon FE and Nikon F
Okay, I guess you would call purchasing these two cameras a "steal", I would not.  I told the owner what her Nikon F was worth and that she could sell all her cameras on eBay for much more than I offered.  She liked me, trusted me, and wanted a cash offer.  I obliged.
Honestly, if I do the math, I purchased each camera for under $10 at a Chicago area garage sale in 2013.  It was the best camera sale ever.
I love my silky smooth Nikon FE but haven't tried my Nikon F yet.
On a Chicago basketball court in mid-summer, the Nikon FE made me feel like a professional photographer, with professional results.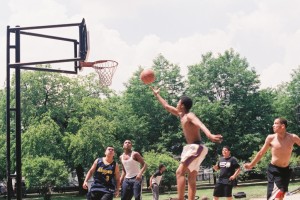 GAF L-ES Aperture Preferred Screw Mount
This camera was a throw-in on an eBay sale.  I paid 5 dollars for it.
Here's my GAF L-ES review.
It's lovely camera that both feels good and takes good photos.  It's electronic metering goes way beyond the one second advertised and seems to go as long as 10 seconds.  I love taking photos at night with long exposures.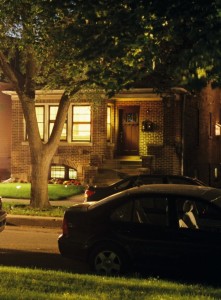 Olympus Stylus Epic
You can find articles about this little fixed lens film camera all over the Internet.  The camera was designed by a Mr. Yoshihisa Maitani of the Olympus Corporation.  The man was a genius.
One website said this camera takes "pin sharp" photos.  I'd say it's true.  Although not waterproof, you can toss it into your jacket, go out into a snowstorm, and take a good picture.  I especially like it for up close portraits.
In the photo below, I focused on the plant in the foreground hoping to get some great bokeh.  I like the bokeh, do you?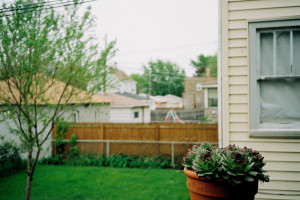 I own two of these black beauties.  One was a "throw into the box" gift from a Craigslist seller in Arvada, Colorado.  The other I purchased at a garage sale or re-sale shop.  One was free, the other was 5 dollars.
Agfa Optima II
Superman "finger" required (more on that later).
This camera came to me in a "for repair" bundle from eBay.  I purchased 4 cameras for $12.  Three of the cameras worked, the 4th did not.  So this camera cost me 3 dollars plus shipping (under ten dollars).
Guess the focus zone (am I 3 feet away, 10 feet away, or more).  Press the shutter half way down.  If you see a green light in the viewfinder, the photo will be properly exposed.
Only one problem, pressing that shutter half way down requires the strength of Superman.  And beware of camera shake.  This photo was one of my best in 2010.  I purposely blocked the sun with a branch, took the shot, and hoped for the best.
But the photos are worth the effort on this 3 dollar special.
Kodak Motormatic 35F
A delightful wind-up camera that takes nice photos.  Seriously, you insert the film, and wind up the camera.  Shoot, shoot, shoot up to 5 times and the film advances from the wound up spring.
Sounds cheesy and poorly built but its not.  Its fun.  And the photos have a nice warmth to them.  This beautiful photo was taken with a $5 Kodak Motormatic that people thought didn't work.  The odd part is that it was taken in a shopping center, the clouds appearing above a Kinko store.
This camera came in my 4 cameras for 12 dollar bundle with the Agfa Optima II.  I could have purchased a 2nd one of these cameras for $10 in Delevan, WI and passed it by.  Wish I had purchased it and its beautiful case.
Canon A35F
Read my article on my wonderful Canon A35F.
I've photographed this pond with cameras worth 50 times more than what I paid for my $5 Canon A35F.  But none of those cameras took a better photo of this pond I see every day on my lunch hour walk.
Purchased for 5 dollars at a Chicago garage sale.  I call it the Son of Canonet.  But you'll need to read my article for the Canon A35F.
Canon 130u
Purchased from a retired couple in Lindenhurst, IL at their garage sale.  Whenever I fish at Jack and Lydia's Resort in Lake County at Deep Lake, I swing into the suburbs looking at a few cameras.
My mother loved purple flowers.  This one's for you Mom.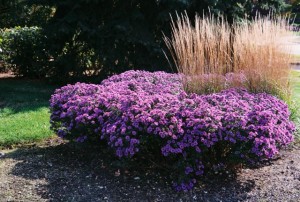 Canon 130u, Purple Flowers
I sometimes think that if I had to carry just one film camera to take a good photograph up close or at a distance, this might be the camera.  The sellers of this camera said it took great photos of their trip to Ireland.  I shot one test roll of film and loved the results.
Nikon L35AF, Pikaichi ("top notch" in Japanese)
During the summer and fall of 2011 I believe these cameras were looking for me.  I ended up purchasing 3 of them.  One too many.  But when some unsuspecting photography student asks for a nice film camera, I think I'll give one to him/her.
The photos with this came out very nicely.  And, the camera requires manual rewind, which to me is a good thing.
If you want to read a great write-up on the Nikon L35AF, visit Ken Rockwell's photograhy website.  His website is a great photography resource:  http://www.kenrockwell.com/index.htm .
Another great website to visit is Matt Denton's website.  You can visit his write-up on the the Nikon L35AF or Pikaichi ("top notch" in Japanese).
Olympus Infinity Zoom 200
A black chunky film camera that takes nice photos.
Purchased for 2 dollars as I recall at a garage sale in a fancy neighborhood in Chicago, IL called The Villa.  Nice people in that neighborhood, nice houses, and nice cameras.
This photo may look ugly to you, but it was taken at night, timed delay, no flash, in my Chicago alley.  I think the exposure is great.  This is the real Chicago friends.
The camera is almost as heavy as a brick, ugly as heck, but takes nice photos.  Is ROI a good phrase for a camera?  My return on Investment for a $2 camera has been quite good on the Olympus Infinity Zoom 200.
Can you find a good $10 film camera?
Yes you can.  Mine have come primarily from garage sales and bundled eBay sales.  What's your favorite film camera for under ten bucks?  Leave a comment on this blog so I can write about your camera on what is a film camera.