Once a year Park Ridge, IL has a city-wide garage sale of perhaps 100 homes (plus unlisted sales).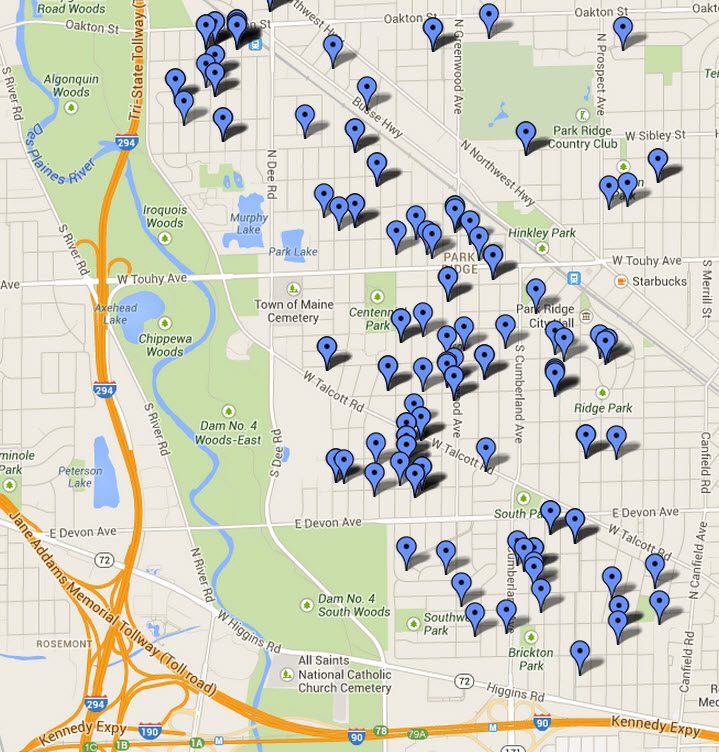 20 Garage Sales – 3 Cameras
In visiting about 20 garage sales I found just 3 cameras:
Dirty 90's Minolta – The owner went inside and brought a mostly plastic Minolta from the late 80's or early 90's.  It had a nice big fingerprint and possible scratching on its zoom lens.  I politely said "no thank you".
Clean Polaroid SX-70 – It was very clean, but I told the owner I still don't collect Polaroids.  But it didn't hurt to ask and we had a nice conversation.
Rock Solid GAF L-ES/2 – This was worth 2 hours of driving around Park Ridge, IL with my friend Tom.
GAF L-ES/2 Sitting in the Garage
"Do you have any film cameras in the house?", I asked.
Yes, just a moment.  My husband used this camera before we were married and doesn't use it anymore.
Let that be a lesson to you husbands (or wives) out there, if you want to keep your camera, keep it in the house.  If your camera is stored in the garage, it's almost gone to a collector like me.
The wife had absolutely no attachment to this camera.  I wonder what her husband said when he came home and his wife said she had sold it.
My 2nd GAF L-ES Camera
The camera in the case with shoulder strap was a GAF L-ES/2 .  It's not a great camera but it's a camera I know well.  I already own a GAF L-ES and it's wonderful.  Here's my GAF L-ES review.
The GAF L-ES/2 originally was known as the Chinon CE II Memotron.  It's a quirky name I'll admit.  You've probably heard of the shutter priority Canon AE-1 of the same period.  The GAF L-ES/2 was a minor competitor of the Canon camera.  I think I prefer the GAF camera myself.
The photo of a GAF L-ES/2 below is courtesy of MFlenses.
So why should I buy another GAF?
The Park Ridge GAF L-ES/2 came with its own case, shoulder strap, 1.4 55mm lens, and an 80-200 zoom lens.  I tested the light meter and it was still working.  Amazing.
I knew the GAF L-ES series of cameras were aperture preferred cameras for M42 lens that needed a working battery for the electronic shutter to work.  And this camera was working.  Again, hurray.
Bargaining for a Camera
If you need a camera and desperately want it, it shows.  I already owned a GAF L-ES, knew the camera I was holding was in good shape, but didn't need to buy the camera.
I normally buy my cameras at 1/3 to 1/2 of eBay prices, normally 1/3.  My friend Tom was with me watching my every move.  I thought $10 was too insulting, I was willing to pay $20 for it.  That would be my maximum.
The wife wouldn't make me an offer, I asked her 3 times.
I offered $15 for the camera and its 2 lenses and just waited.  Silence is golden.
She thought a moment and said "yes".  If she had countered I would have gone to $20, but she never countered.
 20 Garage Sales, 3 Cameras, 1 Purchase
That sounds about right.  In retrospect I should have offered something on the Polaroid SX-70 with leather casing.  It's sold for $60-$80 on eBay.
But as it stands, I have a nice GAF L-ES/2 to test and to probably sell on eBay.  Thanks for visiting What is a Film Camera today.