The title I chose is incredibly boring:  GAF L-ES aperture preferred screw mount.  But the camera is very, very nice.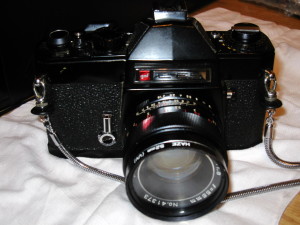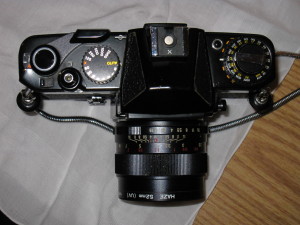 My GAF L-ES Beats your Digital Camera at Night
Can your digital camera take a photo without flash in the dead of night and shoot a better picture than my 35 year old GAF L-ES?  Although the shutter speed has 1 second or Bulb, I had a suspicion that this camera would go beyond one second in automatic mode.  As I quietly counted to myself, I believe at least five seconds elapsed before I heard the shutter close.
As I said, can your digital camera beat my GAF L-ES at night?  See below.
$50 in Chicago but $5 on eBay
There's a re-sale shop in Chicago that had 50 cameras in its back room in the summer of 2012.  I wanted several of those cameras.
The camera I liked the best was a GAF L-ES.  It just felt good in my hands.  Since I don't own an iPhone I couldn't research the camera on the spot.  All I knew was that I woudn't pay $50 for this camera, too much.
But about 3 months later a GAF L-ES appeared for about $5 on eBay.  It was part of a camera lot I purchased for perhaps $15 from an honest eBay seller who sells well maintained cameras.  If you wait long enough, the cameras you want will come to you 🙂
Old Camera?  Test your Film Transport First
There are few things as frustrating as shooting a roll of film and then you cannot extract the film properly.  Always test a new/old camera with an expired roll of film to test your film transport.
First GAF L-ES Lost Forever, Film Rewind Problem
My first roll of film was lost forever.  I couldn't depress the shutter rewind button on the bottom of the camera.  I tried extracting the film in a dark closet, no luck.
24 good photos lost.
Second GAF L-ES Roll, Film Rewind Problem Solved
Again, the rewind button jammed at the end of my 2nd roll.  I thought I would need to take it to Mr. Lee's in Des Plaines, IL for camera repair.  But do I really want to spend $50 to repair a camera that I purchased for five dollars?
So I trolled the Internet and found someone who had the same problem.  They basically said use some force.  This time, instead of using my thumb, I pushed gently yet firmly with a screwdriver.
Hurray!  The rewind button depressed, I rewound the film, and popped out the film.  I called my wife who was taking 2 rolls of film to Costco to turnaround and come back.  Luckily, she came by the house 5 minutes later and didn't seem angry at all (thanks honey).
In a few hours I'll know if my GAF L-ES takes nice photos.
GAF L-ES First Roll of Film – Keepers
I shot my first roll in Chicago, IL and central Illinois.  They're just nice photos, but I like them.
Chicago Photos
I live on the north west side of Chicago.  Let's call it bungalow land.
Kids Bicycling on my Block
My block on Chicago's north west side is alive again with kids bicycling back and forth and back and forth on our sidewalks.  Trust me, if you live on a Chicago street and kids are playing happily on bicycles, your neighborhood is alive and well.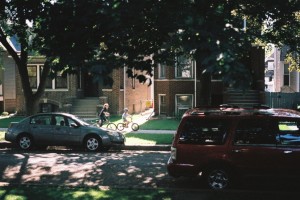 Backyard Bokeh
This is a very common photo of mine testing a camera's bokeh.  I first did it with an Olympus Stylus camera years ago.  So again, here's my wife's plant on our deck with neighbor's yards as bokeh.  See below.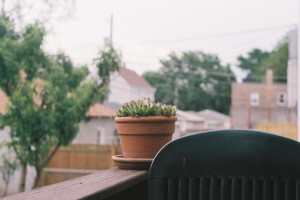 Skylight and Neighbor's Chimney
This may not be a terribly exciting photo to you.  But it's my kind of photo.  One of our attic skylights looks directly at our neighbor's chimney.  At certain times in the early morning, this chimney has dazzling red colors.  Today, it's just a chimney.  See below.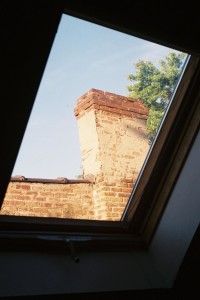 Photo at Night
Below is the original night photo I took around midnight with my GAF L-ES.  As you can see it was tricked during a 5-10 second exposure by the brightly lit home across the street.  It was an imperfect shot that I edited so it now had value.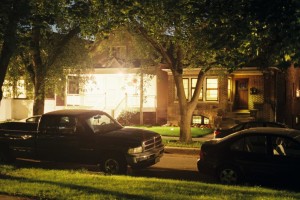 GAF L-ES Double Exposure Feature
The camera does have a double exposure switch near the shutter button.  I had never tried that feature.  I think the result was just OK.  See below.  It's a photo from my front porch looking both south and north along my street.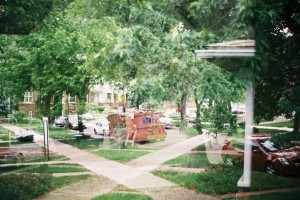 GAF L-ES Photos Down on the Farm
I do enjoy my time in central Illinois where my wife's family lives.  My brother-in-law and sister-in-law are always willing to let me take photos.  They're very nice people.
 A Farmer, His Pickup, and his Childhood Home
My brother-in-law sometimes takes me on the back roads of central Illinois to drive his acreage.  This is a nice photo of Mike, his pickup truck, and in the background his childhood home.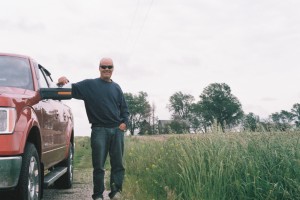 Mickey Mouse Sitting and Waiting
Here's Mickey Mouse sitting on his chair waiting for someone to play with him.  Again, taken without flash of any kind.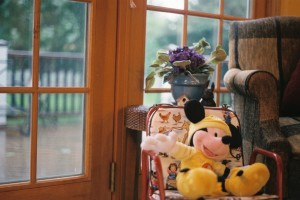 Somewhere, Muhammad Ali is Smiling
A year or two ago I purchased a Mamiya/Sekor 1000 DTL and its 50 mm lens.  The camera had photographed Muhammad Ali close-up at a civil rights rally.  Unfortunately, I just couldn't get the camera to behave and take good photos.
So I took the 50 mm lens that photographed Muhammad Ali in the 1970's in Kansas City and placed it on this humble GAF L-ES.  They performed well together and took fine photos.
So somewhere, I hope Muhammad Ali is smiling.  He's an old man now.  But he looked into this lens 35 or so years ago.  And the lens still works just fine.
Perfectly Happy with my GAF L-ES
If I were 25 again and the GAF L-ES was my one and only camera, I would have been perfectly happy to use it.  Just remember that it has electronic metering and needs a battery to work properly.
It has a nice heft and balance to it that I enjoy.  I prefer aperture preferred metering where I set the aperture for my bokeh needs or go fully manual.
Thanks for visiting What is a Film Camera today and reading about my GAF L-ES.