I recently saved a Kowa H camera from an Elmhurst, IL garbage can.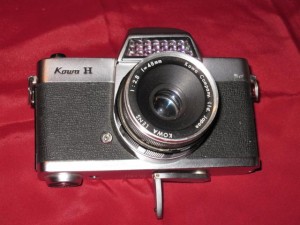 I found an ad for a camera lot for sale in Elmhurst, drove to Elmhurst, and purchased 20 to 30 cameras ranging from good to bad, from 1880 to 1980, from rangefinder to SLR to point and shoot.
(I once wrote incredibly long camera posts describing everything possible about a camera.  But now I write shorter blog posts that are more fun for me to write, and hopefully more fun for you to read.)
Is this Kowa H camera worth much?
These cameras aren't worth much on eBay or anywhere else.  Currently this camera is selling on eBay with an asking price ranging from $10 to $29 (plus shipping).  But this camera is worth something to me and here's why:
Saved from garbage.  Saved from Elmhurst, IL garbage collection (no doubt it's next stop would be the garbage can).
I repaired it.  This is one of the few cameras I've "fixed".  Saying I repaired this camera would be to claim too much success.  Let's just say I fidgeted with it at 2 AM once listening to music and was able to persuade it to work.
The Kowa H Exposure Cycle of Doom
In plain English, the Kowa H has a very complex method for taking one exposure, one shot.  To quote the excellent write-up by Rick Drawbridge discussing the curious Kowa:
The shutter blades close
The aperture closes to selected size
The mirror swings up
The film door swings up
The shutter opens, stays open for the selected time, and closes.
The film door swings down
The mirror swings down
The aperture opens to full aperture
The shutter blades open
I thought I had "fixed" my Kowa H one early morning.  But I came to learn the Kowa H was only temporarily working.  Beware the Kowa H exposure cycle of doom.
My first roll of Kowa H photos was mainly doomed to bad photos such as this one.  Double exposures?  Trouble with film advance?  Perhaps my readers can explain what happened with a comment or two.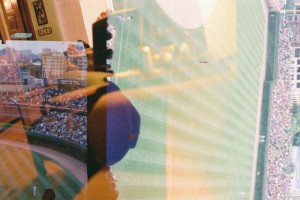 Where has this Kowa H camera Traveled?
This camera came from someone's uncle in Elmhurst, IL.  He didn't keep his cameras in very good shape from what I can see.
Kowa H Camera at Wrigley Field
But every camera you shoot with has traveled somewhere.  This 49 year old camera has now traveled with me to a Chicago Cubs and St. Louis Cardinals ball game on July 29, 2012.  The Cubs won on a 10th inning opposite field home run by Anthony Rizzo.  My friends and I sat in the upper deck down the first base line.  They love baseball while I enjoyed the baseball game shooting a few photos with my Kowa H camera.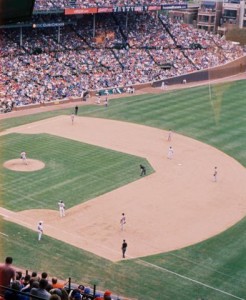 Kowa H at Portage Park, Chicago, IL
My wife and I decided to take a stroll at Portage Park on Chicago's northwest side.  We live closer to Kilbourn Park but I wanted to see something different this evening.
Unless you're from a big city it's probably hard to imagine hundreds if not a thousand or so people playing soccer, tennis, football, baseball, walking their dogs, barbequing in the park, or just letting their kids run in the grass.  The breezes last night were wonderful on July 31, 2012.
I took some photographs of some peewee football players.  I know the photograph isn't impressive.  Most of my photographs from the Kowa H were horrible.  This photo was actually one of the good photos.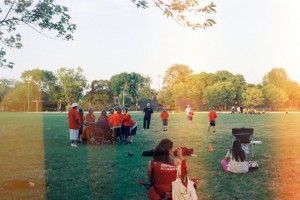 A dad asked me:
Are you from CNN?
I smiled and said no.  Just an amateur photographer.  Why he thought I was from CNN using a 49 year old Kowa H camera I'll never know.  But a nice night to be strolling with my wife and taking photos of Portage Park, Chicago, IL.
How Does the Kowa H Feel?
Well, sometimes fun, sometimes not.  49 years ago it probably was fun.  The selenium meter "seemed" to work based on my photos.
You never know if any on board light meter works for a camera until you test a roll of film.  The Kowa H uses a selenium meter.  So it's battery free.  The light meter did respond to light and changed based upon light ability.  Here's a decent photo of the light meter on top of the camera.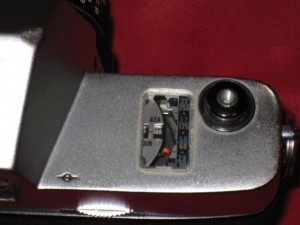 But the Kowa H is known for problems with its complex shutter.  And I can personally vouch for the camera back trying to spring open its door, even with duct tape keeping it closed.
Horrible Kowa H Photos
Yes, some photos were horrible.  Double exposures were caused by an undependable film advance system.  This 49 year old camera has not survived 5 decades in good shape.  Here's a giant mission chair sitting in Wrigley Field's outfield.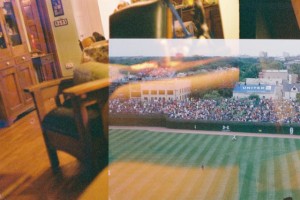 Is the Kowa H Camera Dependable?
When you shoot a roll of film, even before you develop it, you get a "feeling" about a camera.  You develop a like or a dislike for a camera that amounts to dependability.
At this point after shooting my first roll of film with the Kowa H, it will most likely be my last roll.  If the developed roll of film for the Kowa H is amazing, only then would I consider picking it up again.
Kowa H Shutter Problems
As mentioned earlier, Kowa H cameras may suffer from the exposure cycle of doom.
Does the Kowa H like the Chicago Cubs?
In the 2nd or 3rd inning I pulled out the Kowa H and tried to take a photo.  I had pre-loaded it with fresh ASA 100 film hoping for a great day at Wrigley Field.  Immediately, the shutter problem returned.  I pressed the button but the shutter didn't work.
I yanked out the film, tossed it into the garbage, and inserted some ASA 400 color print film of dubious, expired vintage.  I started taking photos.
Deep into the game (Cubs won 4-2 in 10th inning) the back of the camera sprung open a little bit but I caught it with my thumb.  How much film was exposed I won't know until its developed.
Kowa H Duct Tape Repair
After the Cubs game I put white duct tape on the back of the camera so it wouldn't spring open unexpectedly.
Inevitably, a few days later I was taking a photo with the Kowa H when I realized the back of the camera felt funny.  The back of the camera had "sprung" and was pulling against the white duct tape.
I closed the film back as best I could re-setting the film latch.  The roll of film is completed.
Kowa H Performance Anxiety
So here I sit wondering if any of my Kowa H photos will come out decently.  Even if the photos are extraordinary for some reason, the camera is not.  It's undependable.
Kowa H Camera Summary
After shooting a roll of film with a troublesome camera, you know whether or not you will shoot with that same camera.  I love the old selenium meter on this camera.  Maybe it works, maybe it doesn't.
A friend once said you have to watch bad movies to appreciate good movies.  Perhaps that's the same with camera collecting.  I won't say that Kowa H cameras are bad.  I will say that my Kowa H is undependable.
At least this Kowa H gave me a few good photos.  Here are two Cardinal fans at Wrigley field, July 29, 2012.  The Cubs won in the 10th inning 4-2 with a Rizzo walk off 2 run homer.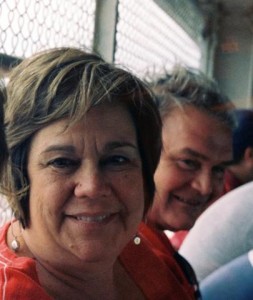 But ultimately, I cannot depend on this Kowa H camera for future use.
Thanks for visiting What is a Film Camera today and reading my Kowa H review.