This is a terrific half-frame camera.  I was shocked when almost all of my photos came out so nicely.  If you have a chance to pick up a Kyocera Samurai Z2, do it.  (Click on any small photo in this blog post to make it larger.)
Kyocera Samurai Z2 Good Features
I almost forgot.  This Samurai's best feature is that it cost me FIVE DOLLARS.  A recent Samurai Z2 sold on eBay for almost $100.  I purchased my Samurai Z2 on eBay for five dollars.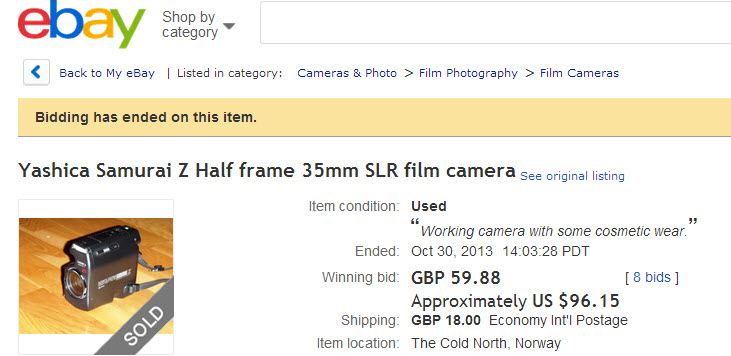 Truly, it's a one handed camera.  I found myself walking around Portage Park in Chicago, IL, and I was happily holding this camera at my side.  In less than two seconds I could bring it to eye level and take a shot (raise camera, look through viewfinder, depress the shutter button half-way for autofocus, see the green light for in-focus and then depress the shutter fully.  Clunk.  (It makes a pleasant clunk when the photo is taken.)
Very pleasant quiet clunk sound when you depress the red shutter button.
The mode control button was easy to understand.  Press it and read the display for understandable, simple symbols.
The date button was also easy to use.  Just keep pressing until you find a setting that you like.
Taking photos in Chicago's subway system with ASA 400 speed film I realized the camera has a timed shutter capable of being open for one or two seconds.  I was glad it had that capability but then I realized my photos would have camera "shake".  I can live with that.  Here's a photo taken in a Chicago subway as I braced myself against a pillar.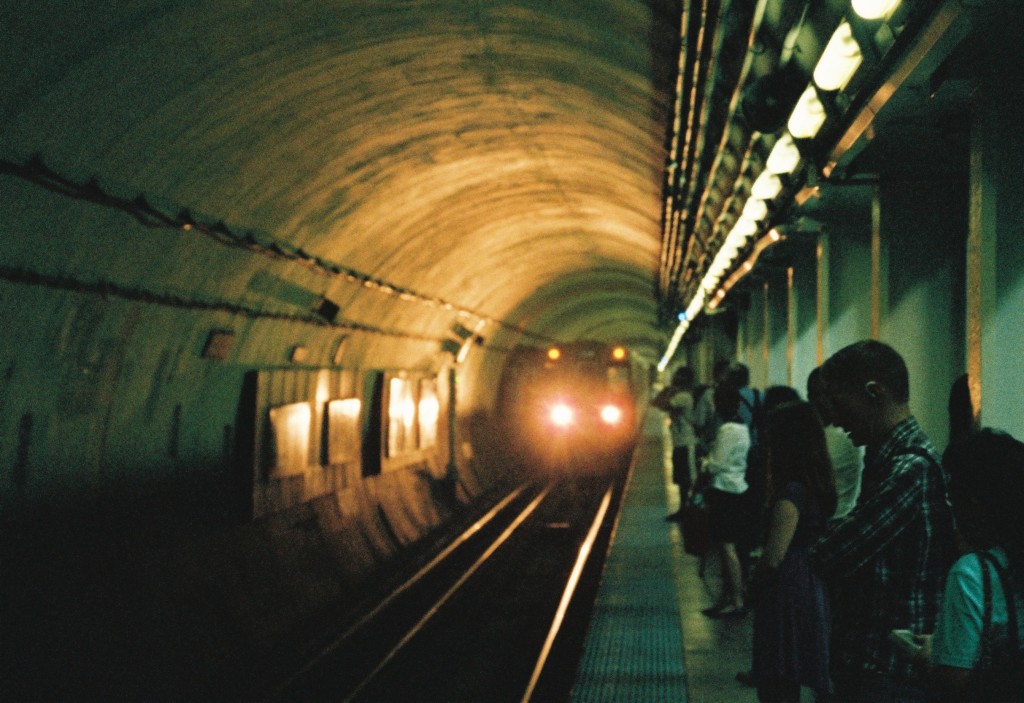 I had to laugh when my wife said:
Are you still shooting that thing?
"Yes dear," I said.  "It's a half-frame camera.  48 shots for a roll of 24."
48 photos for the price of 24?  I like the idea of getting "double my money" in photos.  It must be some frugal German-American tendency.  If Costco develops my half-frame film for the same price as full frames, I'll be pleased.
Taking photos on a Chicago River bridge in downtown Chicago was fun.  It's almost like the near limitless photos of a digital camera.  Kind of silly perhaps.  If I want to shoot lots of photos why not just shoot with digital?  Maybe because I'm an analog guy in a digital world.
Kyocera Samurai Z2 Bad Features – Just Bothersome
If you're left handed you're out of luck with this camera.  (But other than that, this camera is a "keeper".)
Also, it's made for right handed people.  Your thumb curls under the camera, and your 2nd, 3rd, and 4th fingers have a slot where they should rest.  I have average hands for a guy and I already realize I need to consciously hold my 5th (pinky) finger with the other three fingers in the slot.  If you're not aware, your pinky finger might drift over the lens opening and obscure some shots.
The viewfinder has a diopter slider.  If things are blurry in the viewfinder, move the slider left or right until things looked clear.
I don't think this camera has a timer delay.  What's the advantage of having a tripod socket if I can't use a timer delay?  That's one of my favorite techniques for night photography:  use a tripod and shutter delay to eliminate camera shake.
Unexpected rewind?  The camera came with 24 exposures of ASA 400 film.  It said #1 when I began shooting exposures.  I was expecting 48 exposures on a 24 exposure roll.  I then popped in an expired roll of 24 exposures and tested the camera.  After 50 exposures it began its automatic rewind.  So the camera is taking half frames.
Kyocera Samurai Z2 Photos – Chicago, IL
Downtown Chicago was beautiful when I took my Samurai photos.
I love this photo of a water taxi next to a big Chicago River excursion boat.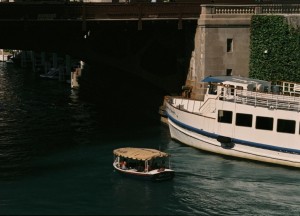 First National Bank in downtown Chicago is always worth a photo.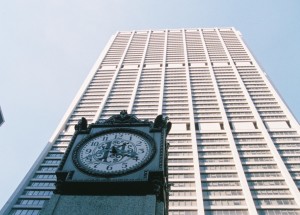 This isn't fancy but it's Chicago.  It's the Irving stop on the O'Hare line, next to the Kennedy Expressway.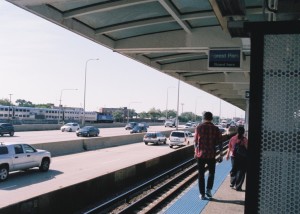 Also, there was a teacher strike in Chicago last September.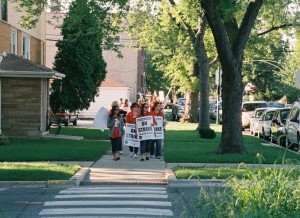 Kyocera Samurai Z2 Indoor Photos
Here's a rare photo of my elusive cats:  Molly and Olly, known as the "Mollivers".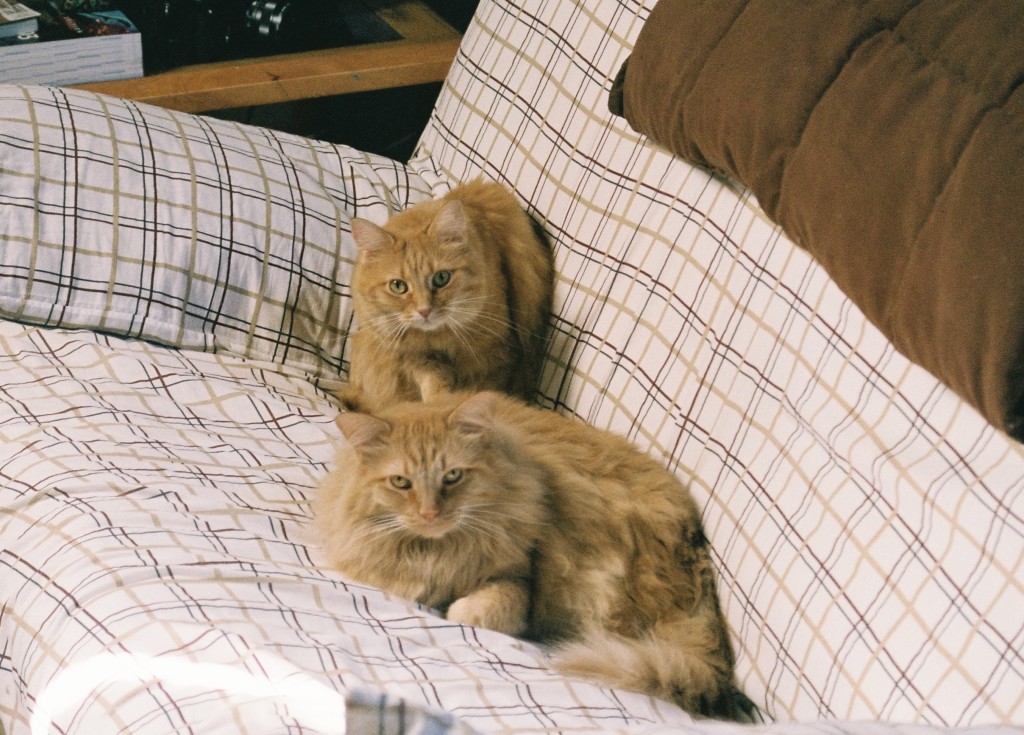 And finally, a photo of my church taken indoors, with the flash turned off.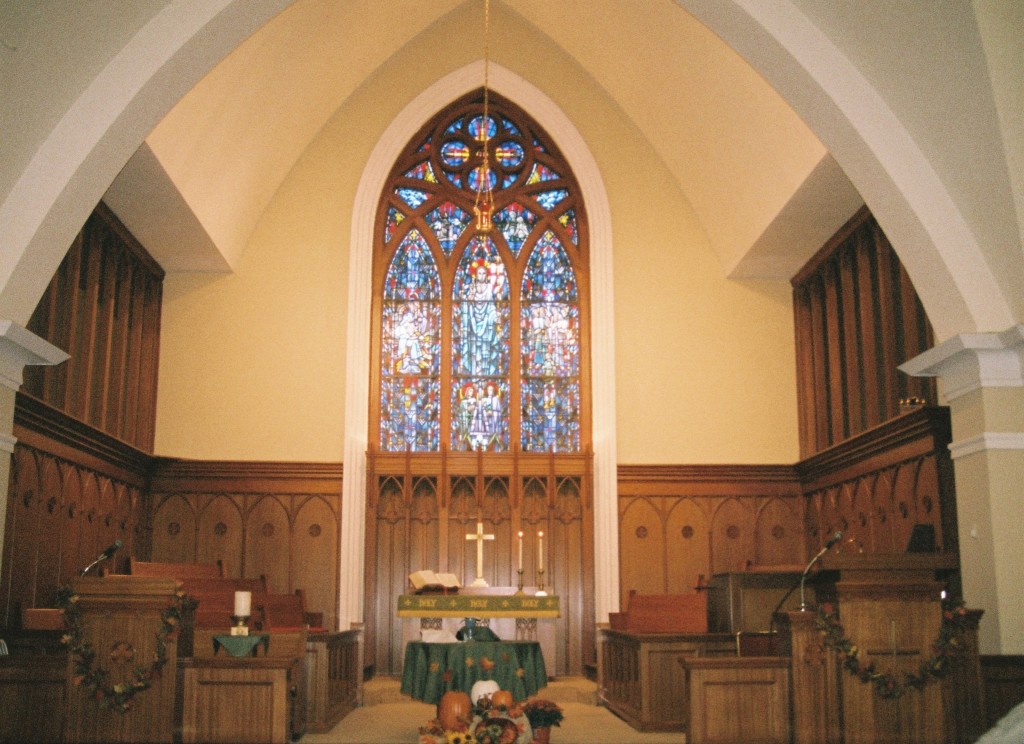 How much is a Kyocera Samurai Z2 worth?
Don't buy the Kyocera Samurai Z2 to make money on it (you won't).  Buy to shoot dazzling photographs easily, the German-American way, half-frame.
Buy on Craigslist, sell on eBay.  That's normally your best plan for making a profit on buying/selling cameras.  But if you're interested in just acquiring cameras, both Craigslist and eBay can serve you well.  I honestly recall paying just 5 dollars for this camera on eBay.  Another snipe in the last 3-5 seconds of an eBay auction.
(September 18 update:  Lucky again I guess.  The Samurai Z2 seems rare on eBay.  One sold in July 2013 with 9 bidders for $36.  And it sold as an untested camera.  My $5 Samurai is fully tested and works.)
Quick Summary
Even though I list more negatives than positives, I like the camera after an initial walk in my neighborhood.  Once again, the cameras has a pleasant clunking noise when you depress the shutter.  And, the camera feels solid.
The half frame photos were to me terrific.  Well exposed from Chicago subways downtown Chicago to my backyard.  It seemed like 90% of my Kyocera Samurai Z2 photos were worth keeping.
Thanks for visiting What is a Film Camera today.  If you want a dazzling half-frame camera at a great price, find a 5 dollar Kyocera Samurai Z2.