Favorite SLR – The Nikon FE
This may be my absolute favorite SLR camera.  I enjoy my Minolta SRT 100 and the Canon FTb is rock solid.  But as soon as I took some photos with the Nikon FE, I actually felt like I was a photographer with a real tool in my hands.  It balances well in my hands and the shutter release felt both silky smooth and dependable (if that's possible).
There's Another Nikon in the Box
As I sat on a sunny, front porch in the Forest Glen neighborhood in Chicago, Lennie kept saying:
There's another Nikon in the box, another Nikon.
Since Nikon is on the front of the camera and the tiny letters FE are on the back of the camera, I guess it wasn't obvious that I was purchasing a Nikon along with 10 other cameras and lenses that bright summer day in 2013.  It was my best camera deal ever.  But my surprise Nikon FE may be the best camera among my 42 pounds of cameras for $100.
Basketball Court Photos
This June day Kilbourn Park's basketball court was full of players.  I think there were 4 games going on (one full court, two half court games).  Schurz High School had just ended and all the students were gravitating to the park.  There must have been over 25 people on the court with another 25 teenagers on the edge of the court watching.
I walked up to a corner of the basketball court, sat down, and readied myself for a fast break photo under the hoop.  Using ASA 400 speed film, I set the aperture to about F/8 and focused on the basketball rim.  I set the shutter speed to about 1/125.  My theory was even if the focus was a bit off, the F/8 aperture would be forgiving.  I remember purposely using portrait (vertical) in various photos.  I wanted to make sure I had the players and the hoop.
Graceful Basketball Layup
This player stood out from the rest.  He'd still the ball, race down the court, and enter my camera frame.  Click.
Quick Layup Under the Basketball Hoop
This player was quick to rebound and quick to score.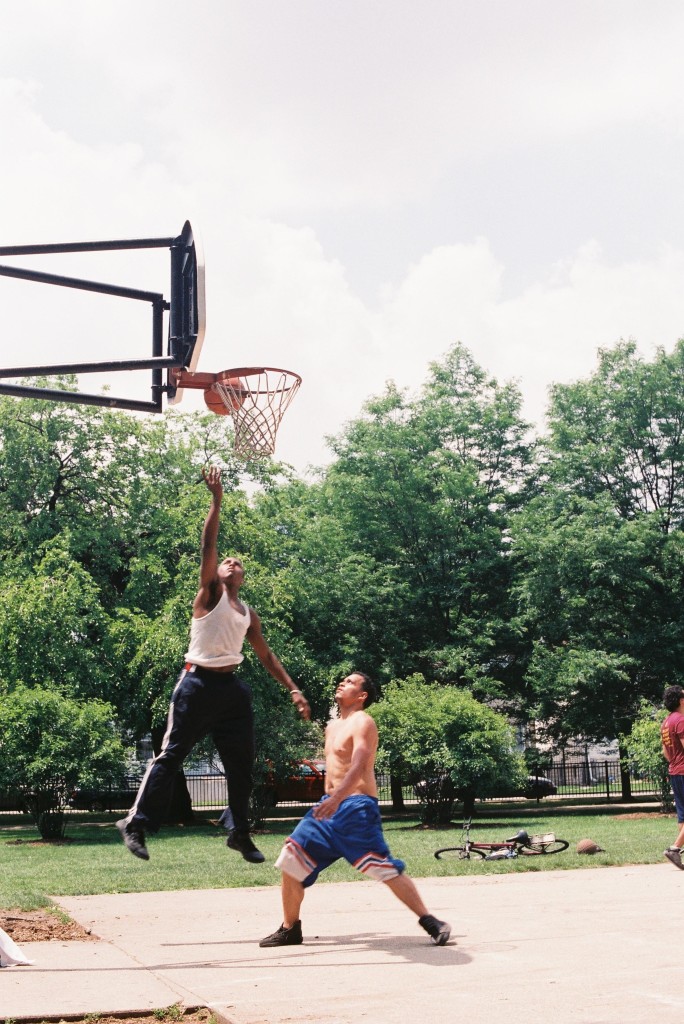 Wesley Woods, Lake Geneva
Every year my wife and I travel to a church camp for a little fellowship, food, and some photos.  I normally bring along one of my cameras.  This year I brought along the Nikon FE.
Wesley Woods on Lake Geneva
This is what it looks like.  Trees, a pier, tiny beach, and a lot of Lake Geneva.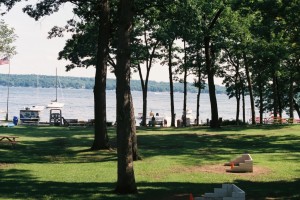 Nikon FE Exposure Problem
I still don't know if this is a Nikon FE exposure problem.  Perhaps if I had bracketed the photo with different apertures it would have been better.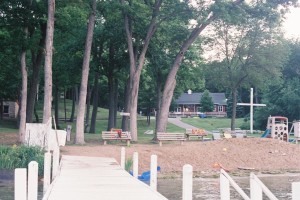 Love my Nikon FE
I can't think of any other SLR in my collection I'd rather have for a shoot than my Nikon FE.  And recently, I learned that it takes great night photos.  You can be sure I'll take the Nikon FE for a Chicago night stroll in the near future.  Thanks for reading my Nikon FE review today on What is a Film Camera.