Photo courtesy of Wikipedia.
I recently purchased a camera lot in Elmhurst, IL, that included a Wardflex camera.  It's a twin lens reflex camera that seems to be well made.  The Craigslist ad had a photo of a brown case in the shape of a twin lens reflex.  It looked something like the photo below.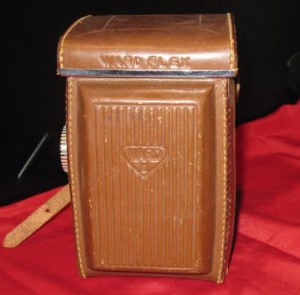 Leave it to Beaver and the Wardflex Camera
Leave it to Beaver was a popular comedy on U.S. television beginning in the late 1950's.  It was televised during 1957 to 1962.  At some point the Wardflex camera was almost advertised on the show.  Almost doesn't count in advertising.
June Cleaver's Camera
This photo from someone else's Wardflex camera blog post is so great I had to share it with you.  Someone must have photo shopped June Cleaver (the mother in "Leave it to Beaver") into holding her camera in the kitchen while cooking.
 My Wardflex Camera Has a Problem
Like many cameras from the fifties and sixties, my camera has oil on its shutter blades.  When I click the shutter, the blades open slowly.  Either I need to remove the oil on the shutter blades or take the camera to Mr. Lee of Lee's Camera in Des Plaines, IL.
Here my Wardflex Ward II looks a little dirty.  But it will clean up nicely.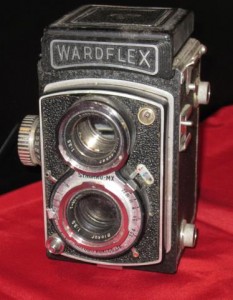 Is a 50 Year Old Wardflex Camera Worth Repairing?
If the Wardflex photos on Flickr are any indication, the Wardflex is worth a $60 repair at my camera shop.  Here's a photo from Scott Cog's Flickr account.
Every Camera has a Story to Tell
Do you own a Wardflex Ward II?  Have you used it?  Would you kindly leave a comment for me?
One day I'll have the Wardflex twin lens reflex repaired so I'll have the "almost" camera from Leave it to Beaver.  Thanks for reading about my Leave it to Beaver – Wardflex Ward II camera today on What is a Film Camera.