Do I like my Yashica T4?  Not so much.
Do you really think the Yashica T4 is great?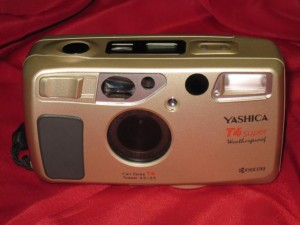 I know it's heresy to say that I don't like the Yashica T4.  But that's how I feel.  My little Mamiya 135 EE is sitting next to my keyboard and I'd rather shoot with it than a Yashica T4.  Or give me my Canon A35F (son of Canonet) for confidence in taking good photos.
I'm glad I owned a Yashica T4.  I'm glad I tested it.  Here are some of my Yashica T4 photos.
Slide show here.
Do you think the Yashica T4 is great or not so great?  Please leave a comment.
How much is a Yashica T4 worth?
It's worth whatever you can sell it for.
Yashica T4 on Craigslist
I found my Yashica T4 on Chicago's Craigslist two summers ago for $30.  I called the owner and drove ten miles one way to purchase my champagne colored Yashica T4 for $30 from a family moving out of town.  Too bad they wouldn't sell its original case.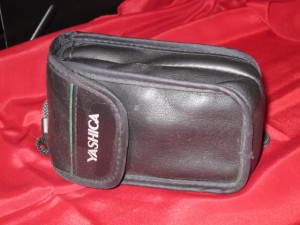 Yashica T4 Sold Prices on eBay
As of this September 10, 2012, Yashica T4 cameras in working condition have "sold prices"ranging from $135 to $267.  It's a valuable point and shoot camera.  These are sold prices, not asking prices.
Yes, the Yashica T4 has some great features
Yashica T4 Lens
I won't argue with you, the Yashica T4 has a great lens.  Here's a photo taken from wine country west of St. Louis, Missouri.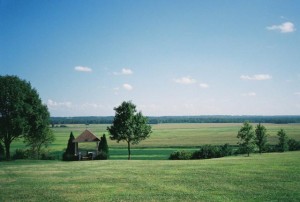 And here's a beautiful photo from a Mount Prospect, Illinois pond.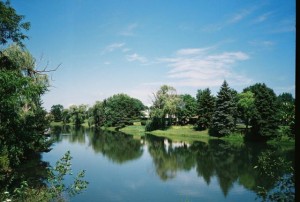 Yashica T4 Waist Level View Finder
The Yashica T4waist level view finder is very sharp, bright, and clear.  I could see using it effectively for street photography.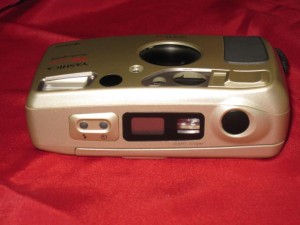 What are my Yashica T4 Complaints?
Here they are.
Blurry Yashica T4 Photos in Daytime
A photographer friend of mine once told me to never show poor photos of my work.  But I disagree.  If our photos are poorly done it's either user error or camera error.  In that spirit here's a blurry photo taken during a Sunday lunch on my back porch.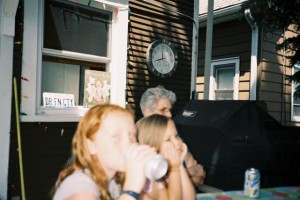 I have used many point and shoot cameras where you slightly depress the shutter button to automatically focus (my Olympus Stylus Epic) .  Then you fully depress the shutter button to take the photo.  Was the photo above user error or a camera error?  This isn't the first time I've had focusing problems with the Yashica T4 in daytime.
Yashica T4 has trouble focusing when Using Flash
I consistently have trouble focusing this camera on a subject when using the flash.  See the photo below.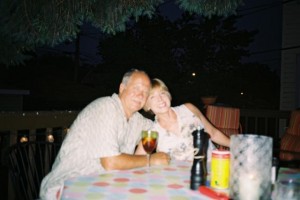 But here's a photo taken by someone else who knew nothing about my Yashica T4.  They just pointed the camera and took the picture.  It turned out great (except the chubby guy on the left needs to lose weight).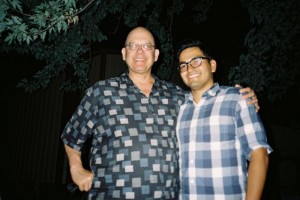 Yashica T4 Exposure Problems
If I keep the Yashica T4 I'll need to live with constant over exposures.  Here's a photo at Deep Lake (Lindenhurst, IL) that was a disappointment.  It's certainly over exposed and the focusing is off.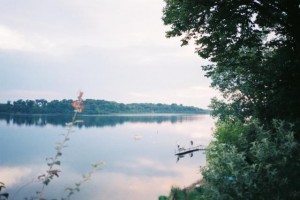 Summary – Yashica T4 isn't worth the Hype
Leave a comment, tell me that I'm wrong.  If my photo problems are a user error tell me in a comment.
I won't sell my Yashica T4, yet.  Perhaps I'll give it a 3rd and final roll.  I feel a lot more confident shooting a roll with my Mamiya 135 EE, Canon A35F, or my Olympus Stylus Epic.  Thanks for reading my Yashica T4 review today.  And tell your photography friends about What is a Film Camera.